Continuous Improvement Reshapes the Way We Deliver to Customers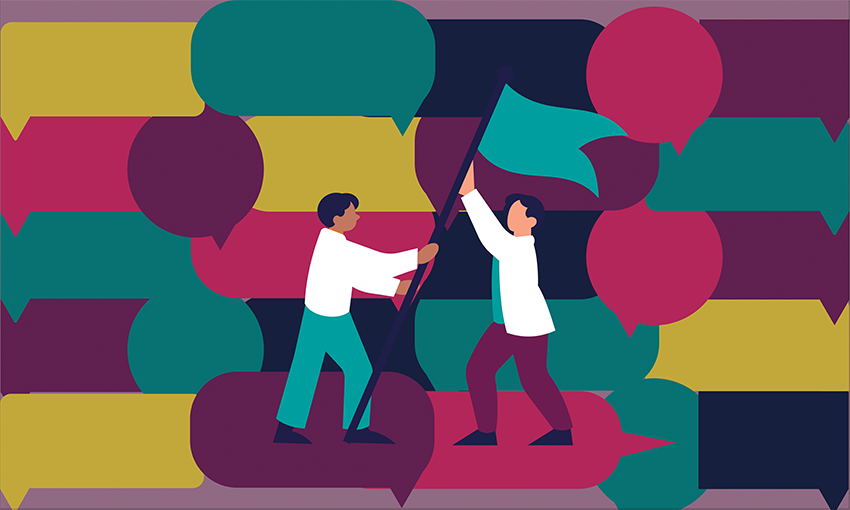 Where We've Been
A continuous improvement journey that began three years ago to help OIT employees anticipate and respond to converging business trends and technological advancements is rapidly reshaping the very nature of our organization.
While definitions vary from source to source, the American Society for Quality defines continuous improvement specifically as the continuous and "ongoing improvement of products, services or processes through incremental and breakthrough improvements."   
OIT originally embraced the concept to respond quickly to conditions that are often referred to as volatile, uncertain, complex, and ambiguous. These situations may involve responding to complexities stemming from current business challenges, the agency's infrastructure, political realities, and the rapid advancement and application of technology.
Where We are Now
Continuous improvement is now transforming OIT from "an organization that provides specifically defined technology-related services to a strategic provider of holistic solutions that support the CMS's mission and proactively resolve enterprise-wide challenges," according to Rajiv Uppal, OIT Director and CMS Chief Information Officer. 
Today, the notion of continually learning, iterating, and doing better has become embedded in OIT's DNA. It is a mindset that drives the way we learn, engage with customers, communicate, and leverage technology.
Continuous Improvement = People + Technology 
Continuous improvement is part people and part technology. The people part focuses on improving the way we do things and making sure OIT employees feel empowered and engaged to do their jobs. The technology part is all about applying the latest technologies in ways that enhance customer experiences and advance CMS's mission.
"One of the things that we've learned is that continuous improvement is both a function of what we do and how we do it," says Uppal. "So efforts like diversity, equity and inclusion (DEI), workforce resilience and our new Partner Relationship Management program are empowering our people to be in a continuous improvement frame of mind so they can continuously learn, discover, and deliver more to customers. These are really people cultivators." 
Applying continuous improvement principles to technology ensures our efforts stay focused on understanding the key business goals of our customers and applying advances in technology to help our customers meet those goals.  
"When we use technology to enable their continuous improvement processes, it's really a cultural shift that focuses our efforts as an organization on the customer," says OIT Chief Product Officer Rick Lee. "We can achieve intelligent and integrated improvements, identify new opportunities, offer greater value to the customer and reach new levels of productivity."
All these factors led OIT to pursue a continuous improvement approach. 
"We are doing this because we need to," says Uppal. "Everything is changing too much and too fast not to invest in continuous improvement."
So…How Are We Doing?
One of the earliest examples of how OIT is applying the principles of continuous improvement in practice is in cloud migration. 
"We've done a lot of work on cloud and have learned a lot," Uppal says. "So we're spending a lot of time and effort on improving the cloud experience for our customers. Now that we know more about the cloud, we can do more about it and because of that we can now prioritize making it a better, easier fit for the customer." 
Another example of continuous improvement in progress is RapidATO, which aims to make the authorization to operate process easier, while increasing information security and reducing the burden on users. 
OIT is also running small technology pilots with end users and business stakeholders as part of the continuous improvement process. 
"Running these pilots allows us to better understand both the needs of CMS and the capabilities of a certain tool, technology, or service," says Lee. "Pilots also reduce costs by allowing us to identify the best fit or approach before diving in with a large acquisition only to find we need to customize it or that it doesn't meet our core needs."
While the progress is notable, there is more work to be done. This is because challenges facing CMS today are more complex than ever and OIT's effectiveness as an enabler of holistic enterprise-wide solutions hinges on its ability to learn, improve, and apply those improvements every day. 
The Journey Ahead
Looking ahead, the challenge is this: How do we continually learn, iterate, experiment, and do better based on what we now know? 
"I have no doubt we will get there," Uppal says. "In the last five years, we've gotten some really big things done and that's how I know we can continue to achieve great things. This is the best team I have ever worked with. I'm looking forward to seeing how much more we can achieve together."
Editor's Note: If you have a good idea or think something isn't working the way it should, send a Slack message to Rajiv and George. They want to hear from you and help if they can.
Continuous Improvement by the Book
Sometimes you just have to do things by the book. In OIT's continuous improvement journey, one book – Radical Candor: Be a Kick-Ass Boss Without Losing Your Humanity by Kim Scott -- is making a big difference in the way OIT managers communicate and provide feedback.
Considered a cultural touchstone on providing feedback to peers, management and direct reports, Radical Candor serves as the basis for a book club for OIT senior management. Started by the senior leadership team, the club meets and reviews a chapter every two weeks. 
Following a discussion, participants go through chapter exercises and provide feedback based on the techniques outlined in each chapter. The sessions are facilitated by Kristen Belcher, the OCM consultant who designed the book club concept.  
"You don't get good at something just by reading the book, so the groups are taking the time to practice and have frank discussions on the issues that are being discussed in each chapter," said Reed Racette, an organizational change management consultant. "They're taking the time to practice and call each other out on it. They're trying to find that balance between being frank and being rude in practicing radical candor. They don't want to be callous, but they do want to be impassioned in the feedback. It's a process."
While the techniques described in Radical Candor are still being absorbed by book club participants, the benefits of reading, discussing, and applying book lessons to real life scenarios are already becoming apparent. 
"Radical Candor talks about how to give feedback and the different types of feedback, and how we feel about delivering constructive feedback," says ISPG Deputy Director Frank Domizio. "It changes your mindset about trying to think about feedback as an important conversation that people need to hear and finding constructive ways to deliver it. I'm only through about three chapters, but so far, I'm finding it super interesting."